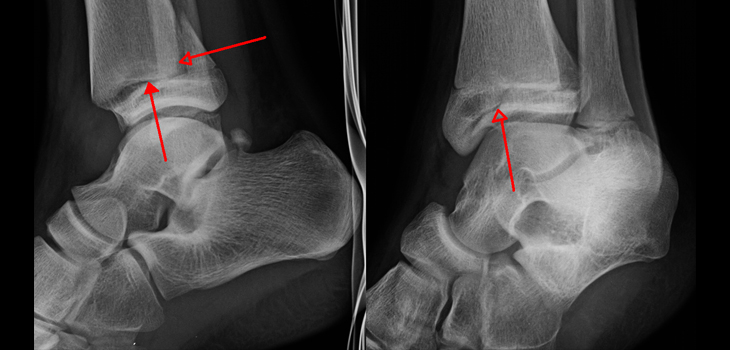 Fuente: Wikimedia Commons y James Heilman, MD
El estudio: «Surgically Relevant Patterns in Triplane Fractures. A Mapping Study» aparecido en The Journal of Bone and Joint Surgery, hace el difícil trabajo de ilustrar las líneas de fractura de tobillo en el plano axial.
Según los autores, Hadad, Matthew J. y Sullivan, Brian T. "las fracturas triplanas de tobillo son fracturas de transición compleja que a menudo requieren tratamiento quirúrgico. Las líneas de fractura axial determinan las trayectorias óptimas de los tornillos para la fijación. El propósito de nuestro estudio fue identificar los patrones de fractura en las fracturas de triplano ilustrando las líneas de fractura en el plano axial de la metáfisis tibial distal y la epífisis «.
La conclusión del estudio es que el mapeo de fracturas de triplano sugiere patrones de fracturas axiales consistentes en la metáfisis y la epífisis con fracturas adicionales dependientes de la clase en la epífisis. Este estudio proporciona pautas visuales para ayudar a los cirujanos a comprender los patrones de fractura axial de fracturas de triplano individuales para la planificación quirúrgica.
"Esto es importante porque permite opciones de fijación más mínimamente invasivas. También permite una colocación más informada de cualquier incisión quirúrgica. Las mejores opciones de colocación para la fijación percutánea se describieron en las ilustraciones «.
https://imtra.es/wp-content/uploads/2019/04/Fracture_Fracture_WEB.jpg
350
730
imtra
https://imtra.es/wp-content/uploads/2021/11/logo-web2-300x158.png
imtra
2019-04-09 16:04:19
2019-04-09 16:05:34
PATRONES QUIRÚRGICAMENTE RELEVANTES EN LAS FRACTURAS TRIPLANAS DE TOBILLO